The YouTube step allows user to watch a public video hosted on YouTube.
YouTube video playback has the following settings configured when using the YouTube step:

The closed captioning language is set to match the language selected for MyDataHelps.
Related videos are limited to just the current video channel. (Disabling related videos completely is not supported by YouTube.)
YouTube branding has been minimized.
Autoplay is disabled.
Fullscreen is permitted.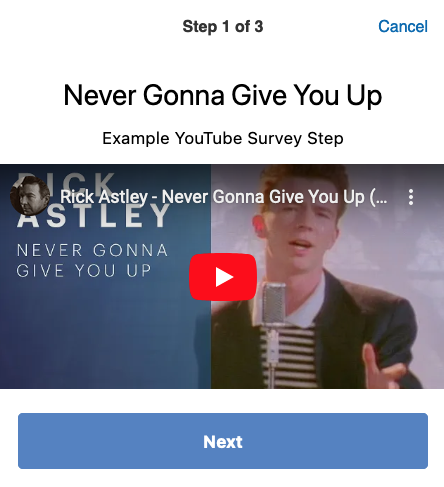 Property
Function
Examples
Title
The large text displayed at the top.
MyDataHelps Overview
Text
The smaller descriptive text below the title. Supports Markdown formatting.
A short, informative video about the features of MyDataHelps.

Next Button Text

Overrides the default text used on the "Next" button.
I've reviewed the video.

Video Id

The YouTube video id, which determines the video to display.
The video id looks similiar to 'Ee3x4oK_qv8' and can be found on the video url in your browser when viewing the video, or when using the YouTube share feature.
dQw4w9WgXcQ
Transcript

A transcipt of the video audio to be displayed below the video.
Meet participants where they are with MyDataHelps. Your one-stop...

Height

The displayed video height in pixels.
100