To give projects flexibility, MyDataHelps collects minimal information from participants at the time of registration. Many projects will want to supplement this with their own targeted demographic information. There are several ways to do this:
When importing CSV data for invitations, you can include columns for various demographic fields. This data may come from external participant rosters or data systems.
Collect and save the desired information in a survey sent at time of enrollment. This is described further below.
In the participant management screen, you can manually set demographics. This is not practical to do at scale for large projects.
Creating an Enrollment Survey
To collect demographics during enrollment, you will need a survey that asks for the necessary information: name, address, date of birth, medical or social conditions, etc. Some public templates in the survey store may provide a starting point.
It is good practice to collect demographic information in your consent survey. Steps asking for demographics can come after eligibility questions (if applicable) and before the consent steps.
In the step settings, you can choose to save the information into one of the standard demographics fields or a custom field. For more information, see Setting Demographic Fields From Survey Answers and Setting Custom Fields from Survey Answers.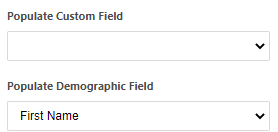 Finally, you will want to send the survey on enrollment. Create a survey schedule that sends your demographic survey with the "on enrollment" trigger. For more information, see Scheduling Survey and Notification Delivery and Custom Field Updates.