Institutions allow you to separate participants based on their institution or study site and assign permissions for MyDataHelps Designer users with responsibilities at specific institutions. For example, you may want coordinators from a certain site to only have access to participants from that site. Institutions allow you to create site-based segments seamlessly, making it a useful feature for multi-site studies.
Table of Contents
Creating and Editing Institutions
To access the Institutions feature, select Institutions within the build section of your project sidebar. Add a unique code for the institution in the "New Institution Code" field and a name for the institution in the "New Institution Name" field. Select "Add" and you will see the new institution saved. You may edit or delete institutions by clicking "Edit" or "Delete" to the right of the institution details. Add as many institutions as needed to run your multi-site study. The Institution Code shows in the participant viewer if that field is selected in the "Column" drop-down.
By default, users have access to all institutions in a project through the "Everyone" team, as described in the User & Permission Management article.
Assigning Users to Institutions
To give specific users access to one or more Institution(s), select Settings from the top of the screen and "User Access" from the list on the left. Select the Institution(s) for that user. Institutions may be selected for both pending and active users. See User & Permission Management for more information.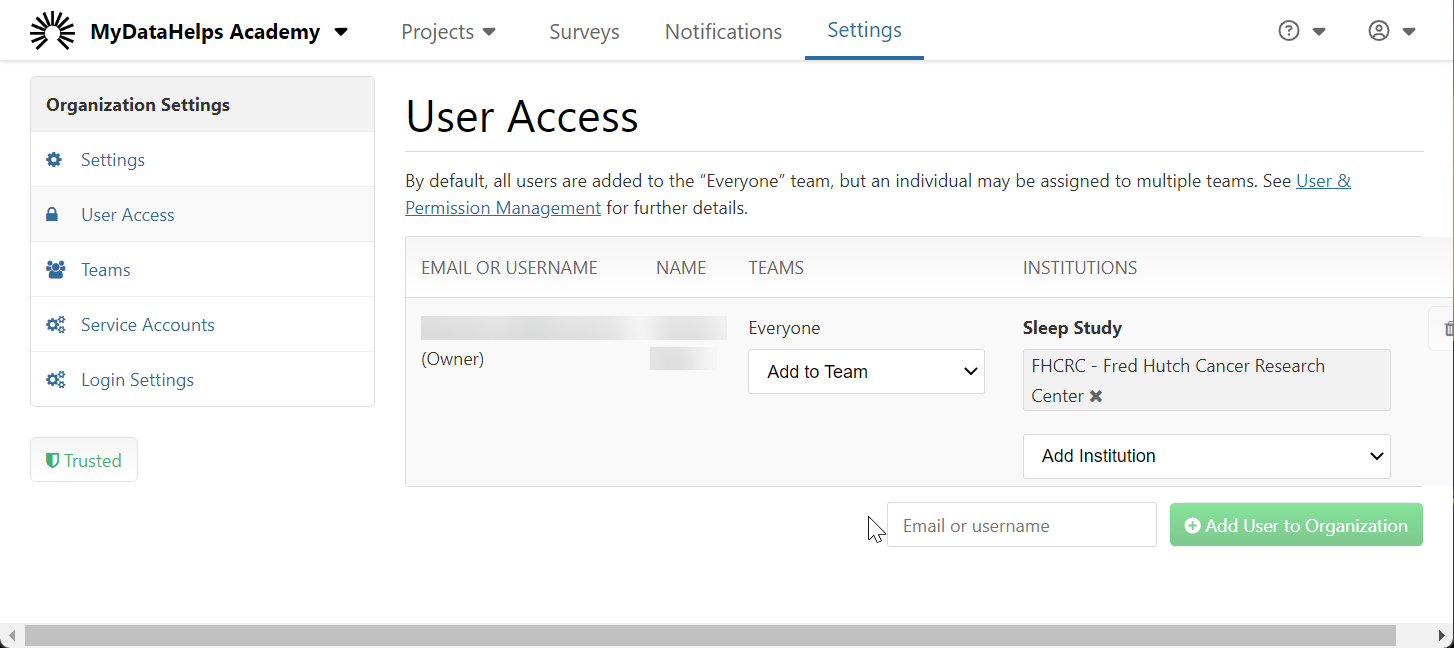 Assigning Participants to Institutions
To assign a participant to an institution, click Participant Info and select from the Institution drop-down. Participants can also be assigned to an institution during invitation or through a bulk participant update.