A project is the vehicle that lets you invite participants, schedule delivery of surveys to them, and report data collected in the surveys. An organization can have multiple projects, and surveys can be re-used among them freely.
Table of Contents
Creating the Project
When you create an organization, you will also be prompted to name the first project. Upon creation, you will be taken to the project dashboard, where you can navigate to various project settings, try out your project, or add participants and segments.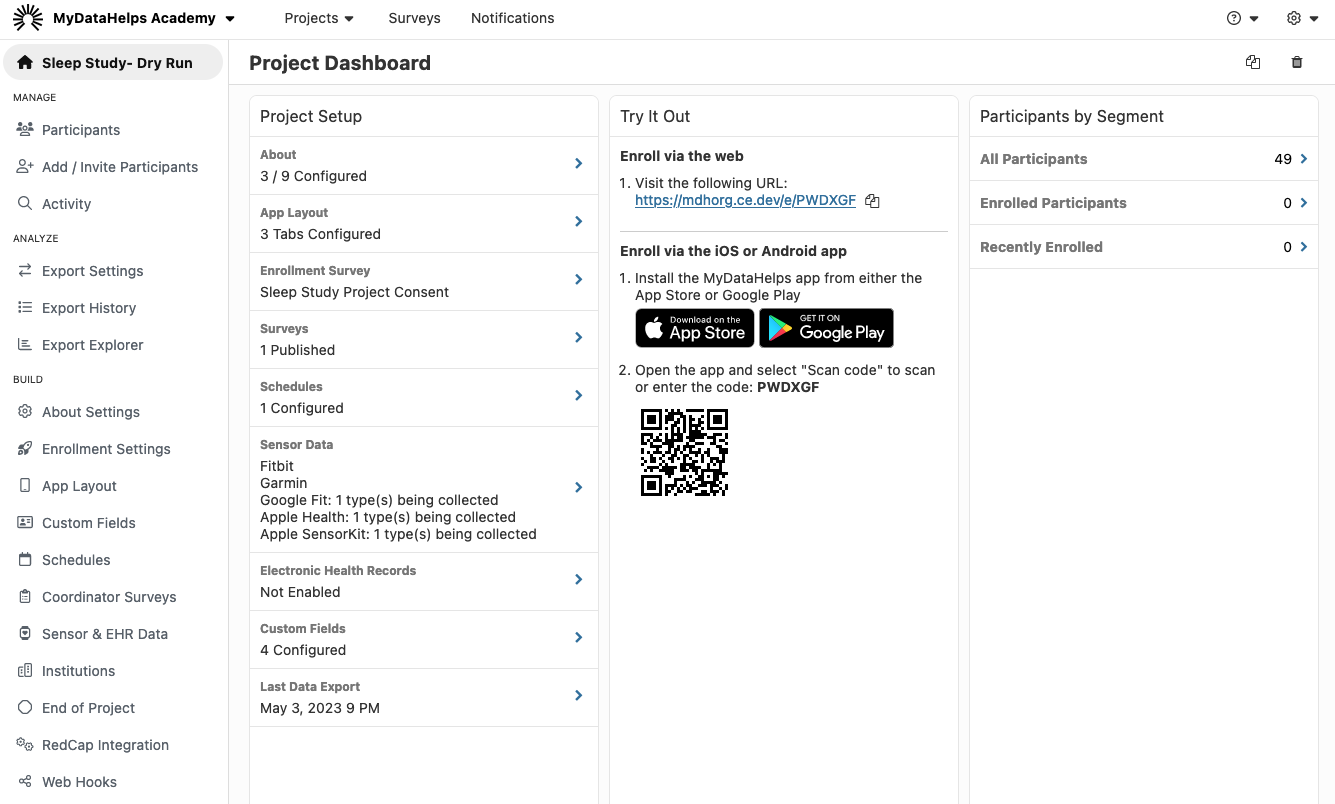 Click on the various tabs within the Project Setup section to navigate to different settings or components of your project:
About - define participant-facing settings about the project (e.g., Display Name and Description, Support Phone Number and Email Address, Email Notification From Name and Reply To, Learn More Link and Title).
App Layout - configure the look and feel of the participant-facing app (Android, iOS, or Web). These can either be from the MyDataHelps View Library or you can create your own custom view URL.
Enrollment Survey - navigate to settings related to enrollment in the project (e.g., Enrollment Survey, Enable for Platforms, Invitation Email, Allow Enrollment via Code, New Participant Survey Links).
Surveys - create, edit, or publish surveys to your project.
Sensor Data - select what sensor data participants should be able to share with the project.
Electronic Health Records - enable EHR data to be collected for the project.
Custom Fields - define data fields specific to your project that you wish to record, e.g., for the Sleep Study you may want to track SleepMachineUsed or MattressFirmness.
Last Data Export - jump to the Export History tab to download recent data exports.
Make sure to click Save each time you update project settings!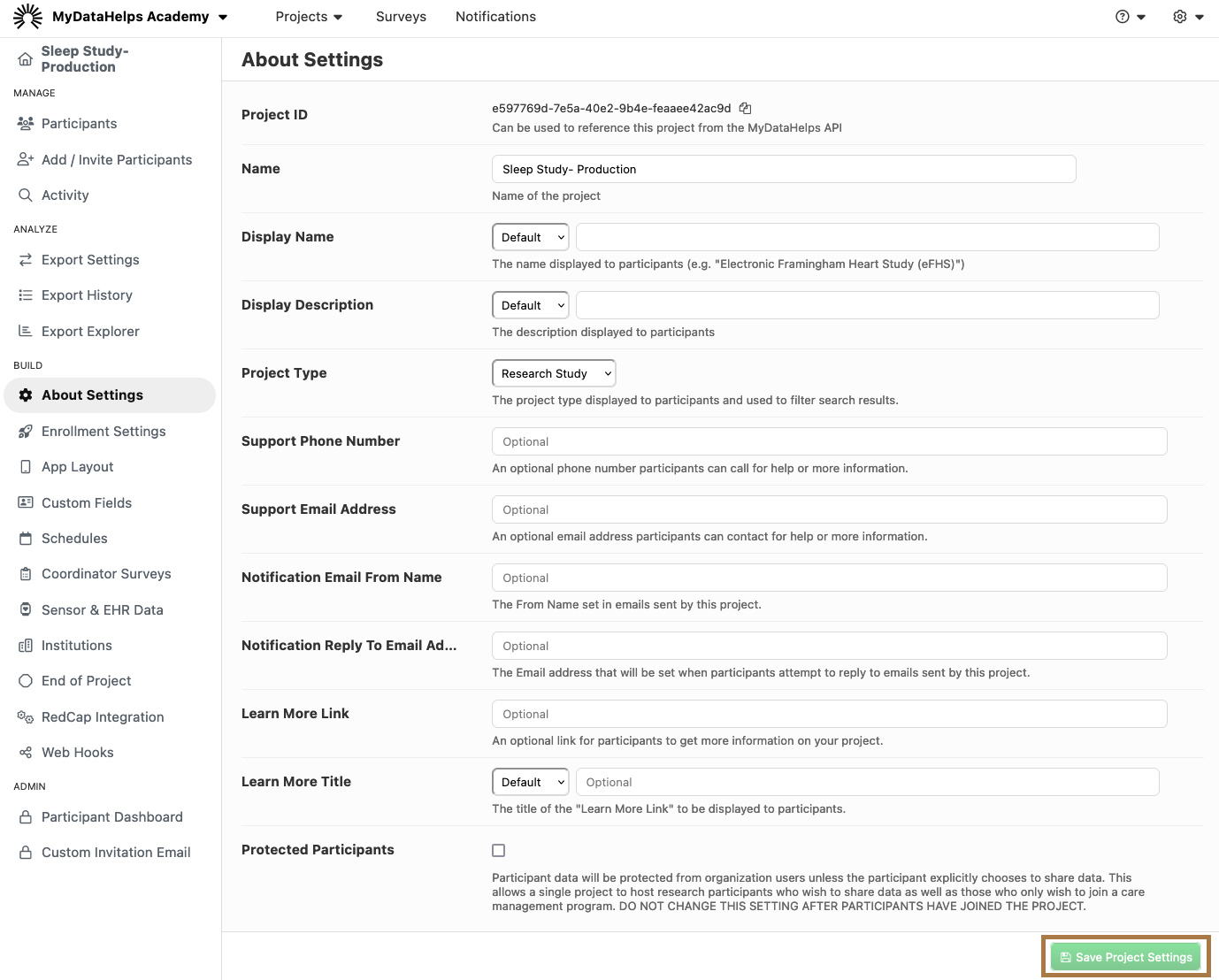 Scheduling Surveys
Once you've created surveys for your project, you can easily navigate to Schedules to automate the delivery of those surveys (e.g., deliver the Baseline Survey to the participant immediately after they complete enrollment).
There's no need to schedule the enrollment survey, as the user is automatically prompted to complete it after creating their MyDataHelps account.
For the sample sleep project, you can schedule the the sleep time survey to be delivered once a week, starting on a specific date.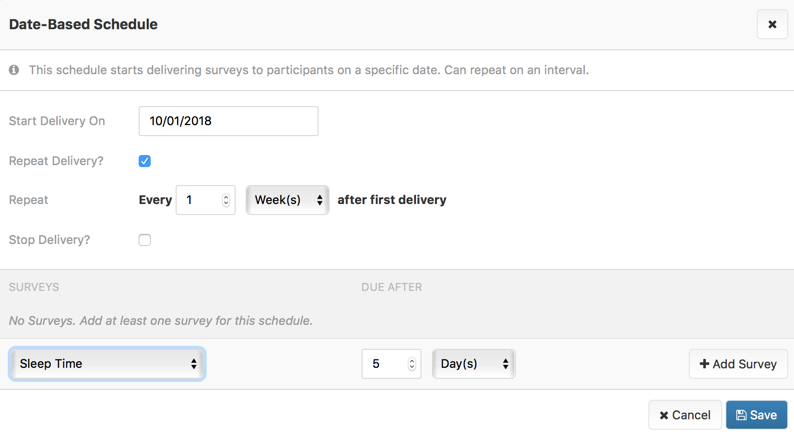 Enabling Sensor Data
When creating a project, you have the option of collecting passive sensor data from participants who join your projects.
The availability of sensor data depends on what device the participant is using, and requires that the participant agree to share the data with the MyDataHelps app.
For the sample sleep projects, you might be interested in collecting the participant's physical activity (steps and distance) or sleep analysis from Apple Health.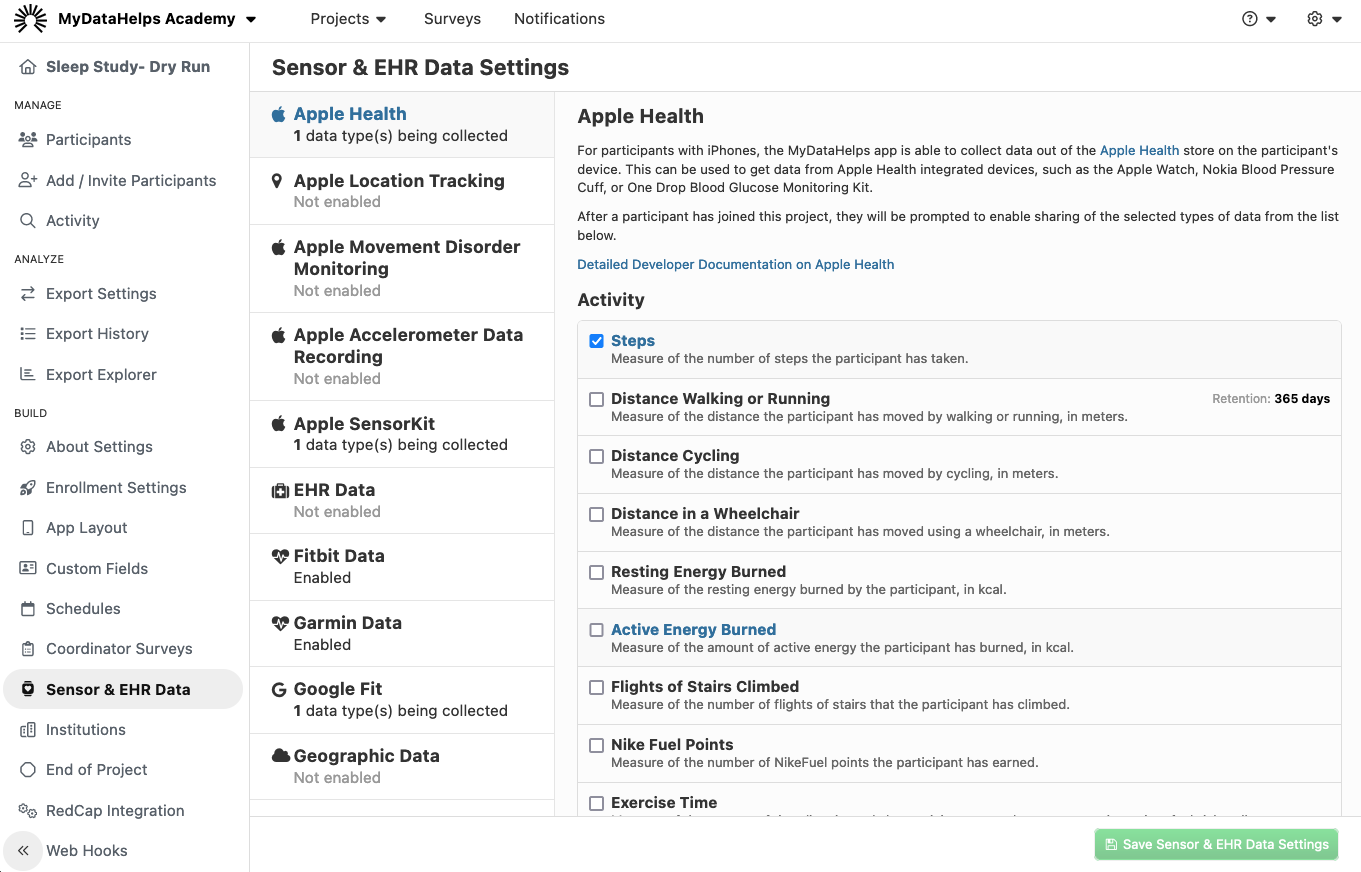 Creating Notifications
MyDataHelps Designer allows custom notifications to be sent to participants via SMS/text, email, or the MyDataHelps app (a "push notification"). You may create any number of custom notifications for your organization, share them across all your projects, and make them available in multiple languages.
You can create notifications by clicking "Notifications" along the top navigation bar, then clicking "Add Notification." There you can define a notification's type (SMS/text, email, or push) and content.

For more information, see Using Participant Notifications (SMS, Push, Email).
Testing the Project
Once you've configured the project settings, schedules, and notifications, you will want to begin testing. To do so, either click the link or scan the code in the Try It Out section of the project dashboard.
Monitoring Participant Segments
Once your project is in motion, you can view participant segments in the right panel of the project dashboard. The segments will appear alphabetically, so we recommend naming them using numerical prefixes if you wish them to display in chronological order.

If you have not added any participants yet, this section will prompt you to add participants; if you have not created any segments, this section will prompt you to create a segment.