In addition to acquiring raw survey data, you may wish to view more detailed information about individual survey participants. You can also edit certain participant fields.
Table of Contents
Viewing a Summary of Participants
To see a summary of all participants, navigate to your project and go to the "Participants" tab. On this screen, you can filter participants by segment and perform bulk actions, search for specific participants, update the columns displayed, and export the data to a CSV file. For more information on the Participant List, see Managing Participants.


Viewing Participant Details
Clicking on a participant will open the participant details screen. From this screen, you can view:
A summary of what tasks have been assigned to that participant, and whether or not the task was completed.
Detailed results of every survey that participant has completed.
Any sensor or location data collected for that participant.


Sensor and location data will only appear if it's configured for this project and the participant has elected to share that data. If data is not appearing, have the participant check their app permissions.

Editing Demographic Information
You can edit basic demographic information, like a participant's name and address.
Open your project and go to the "Participants" tab.
Select a participant you wish to edit.
Select the "Participant Info" tab.
Edit the desired fields and click "Save."
You cannot edit a participant's MyDataHelps account email once they've joined the project. If a participant needs to change their account email, see Changing a Participant's Account Email. If you update their notification email and/or phone number, all notifications will go to that new notification email and/or phone number and will no longer go to their account email or phone number.
Unsubscribing from Emails & SMS Notifications
If a participant should not receive notifications or does not wish to, they should be unsubscribed from email and/or SMS notifications for the project. This can be updated from the "Participant Info" tab by checking the "Unsubscribed From Emails" and/or "Unsubscribed from SMS" checkboxes: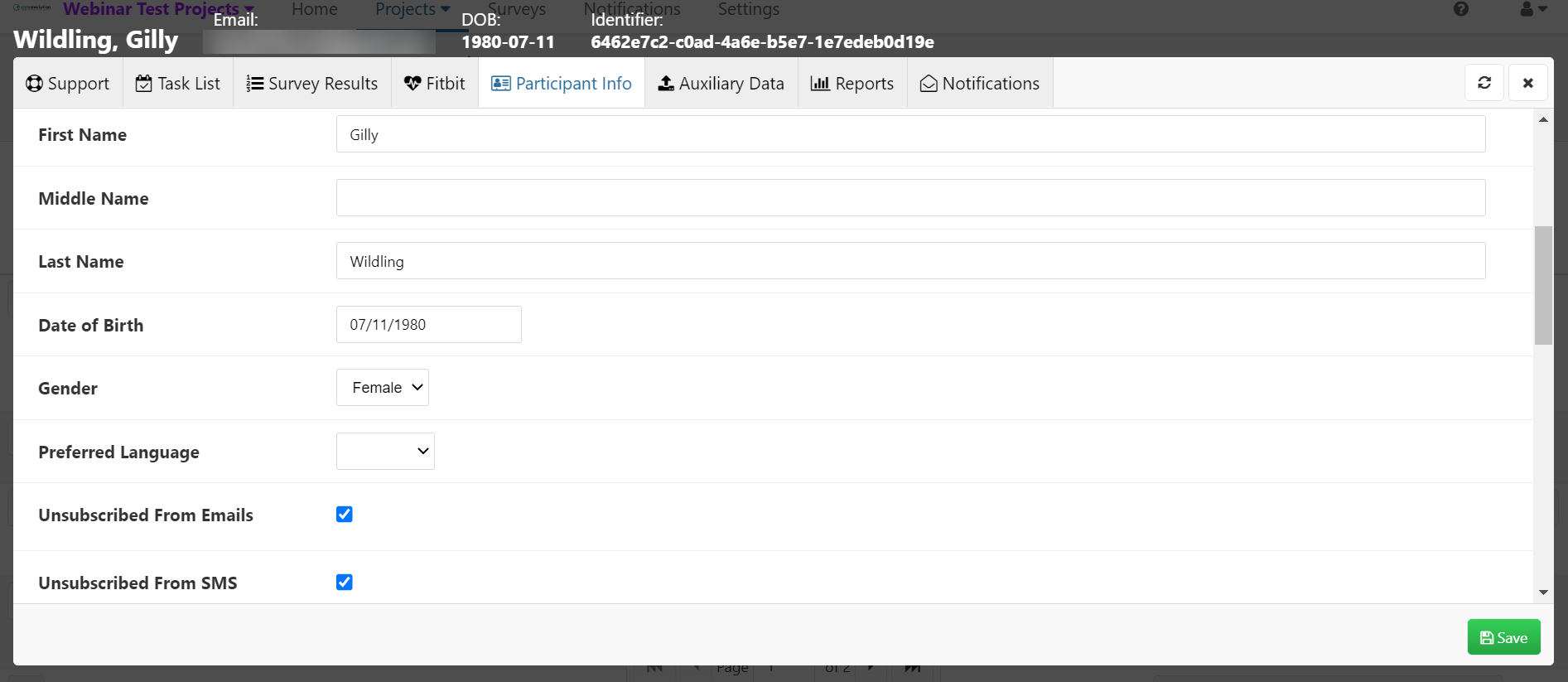 Editing Custom Fields
If you have defined any custom fields for your project, you will see them listed below the basic demographic information.
If a custom field has been marked read-only, it will be grayed out and you will not be able to edit it in the participant viewer.
The editor for each custom field will depend on the data type you selected. For example, a date field will allow you to select a specific or relative date, and a number field will ensure that you've entered a number.

Adding Auxiliary Data Files
You can upload additional data files for a participant, such as scans of paper forms or sensor data collected from in-clinic monitoring devices. See Auxiliary Data Files for details.