Prior to going live with your project and having participants enroll, you'll want to test your surveys and various workflows out. Below are some testing tips to ensure your project is participant-ready.
Try It Out
The "Try It Out" button in the survey designer allows you view an interactive preview of the survey in your browser, without saving any data.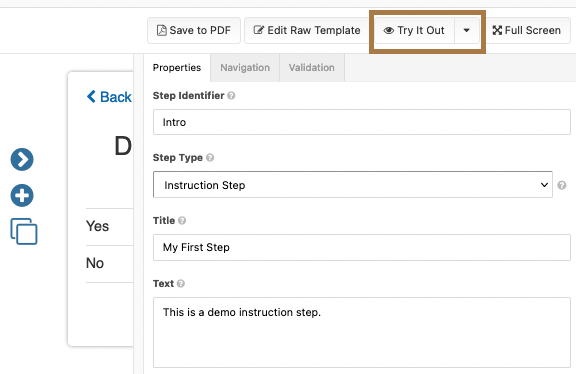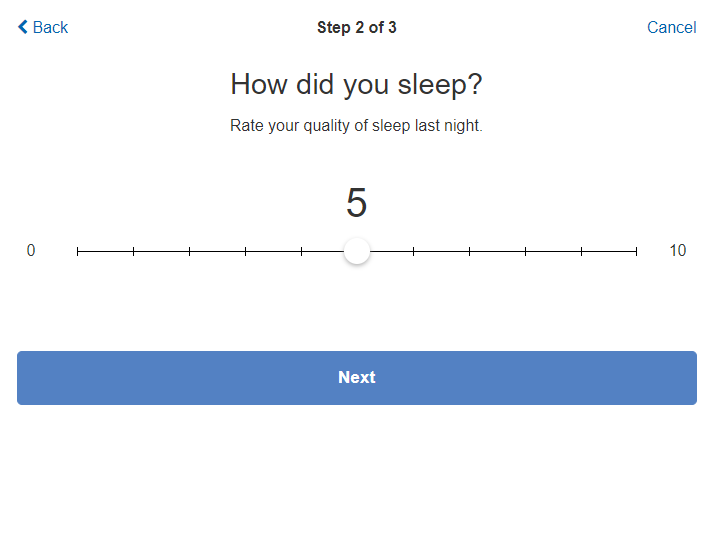 You can click the "Try It Out" drop down to view a survey as a particular participant. This can be useful if you have participants who might have different survey experiences, e.g., if navigation logic sends them to different steps than another participant.

There are limitations to the interactive preview. You will not see the "Try It Out" button if your survey contains device-specific features like image/video capture steps or Active Tasks. You cannot test branching logic dependent on participant data. Finally, the interactive preview presents only a single survey in isolation. It does not allow you to test the enrollment process, survey delivery, or other important aspects of your project.
To test the full participant experience, you will need to create a test account and use MyDataHelps. This will let you view MyDataHelps from the perspective of a participant, including:
Joining the project.
Completing the consent forms and any on-enrollment surveys.
Testing survey schedules and notifications.
Gathering some test data for analysis.
Viewing custom dashboards or other configurations.
How to Test as a MyDataHelps User
Download the MyDataHelps app.
Register as a new user using any email address. You may create as many test accounts as you like, but they will each need a unique email address.


Many email providers, like Gmail, allow you to overlay multiple email addresses onto a single account by using the "+" symbol followed by some extra text.

For example, you could have somebody@gmail.com as your primary administrator account, and then use somebody+1@gmail.com and somebody+2@gmail.com as test accounts. All emails will come to your single Gmail inbox, but they will be treated as separate user accounts by MyDataHelps.

Join the project. You may join the project by opening MyDataHelps and selecting "Scan Code" and then scanning the project specific QR code found in Project Settings, or by sending the test account an email invitation.


You can test both ways of joining the project with different test accounts.

Interact with the project as a participant would, completing the enrollment process and any surveys you wish to test.
View your test account in the participant viewer to ensure that the data is being collected as you expect. You may also wish to test the data exports.
When you've finished testing, you will need to either remove the test account completely (deleting them from the project), or exclude them from data exports. Either way, this will ensure that fake data is not co-mingled with real user data. See Excluding and Removing Participants for details.