You can make your survey available in multiple languages in a process called localization. You provide translations for your survey steps/questions, survey titles, and notifications within MyDataHelps Designer, and the MyDataHelps app will display prompts in the appropriate language based on the language settings in the participant's device or browser.
Localizing Survey Steps
To translate your survey into additional languages:
Open your survey in the Survey Editor.
Your survey will initially be in the default language (usually English).
Select Add Language and choose a language (such as Spanish).

Your survey will switch to that language. Menu and button prompts in the preview pane will change to the selected language, but the question text will still be in the default language.

Enter language-specific text for each survey question in the Properties pane. Any text left blank will use the text from the default language.

Save the survey.
Add additional languages if needed. You edit your survey in different languages by selecting the language name from the list at left.
You may only modify survey logic (step identifiers, navigation/validation rules, choice values, etc.) in the default language. These changes will be carried over to all languages to keep the survey logic and identifiers consistent.
Localizing Survey Titles and Descriptions
To present a different survey title and/or description in different languages:
Open the survey and go to the "Settings" tab.
Select a language from the drop-down menu next to the "Display Name" or "Display Description" fields.
Enter the desired title and/or description for the selected language. If a field is left blank, the default description/title will be used.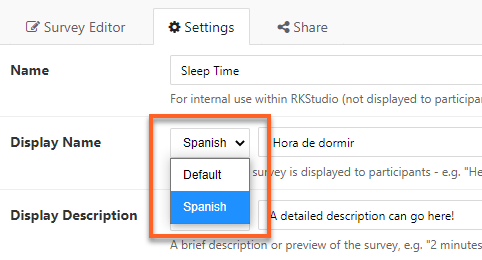 Localizing Notifications
Notifications can also be translated into other languages.
Go to the "Notifications" screen and select a notification to edit.
Select a language from the drop-down menu in the top right.
Enter a translated title and/or body. If a field is left blank, the default title/body will be used.
The identifier, type, and description are not displayed to the participant and cannot be translated.