The text choice answer format allows the participant to choose from a set of options.
Text Choice and Value Picker are similar. Text Choice is good when you only have a few options, or want to allow multiple choices. Value Picker is good when you have a lot of options, since it only shows a few at a time.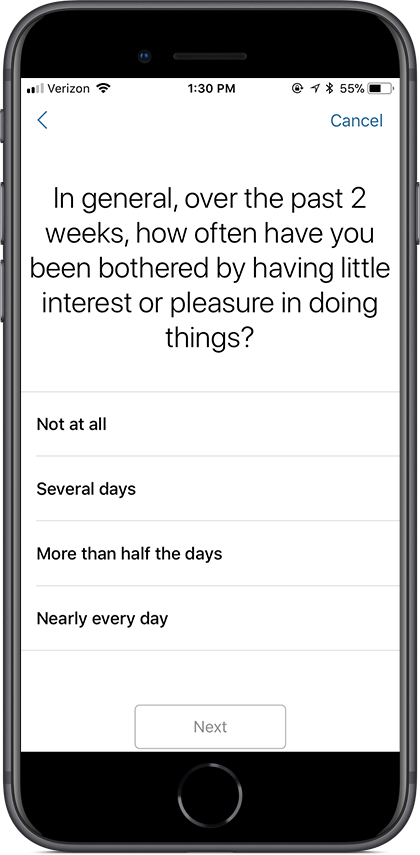 Table of Contents
Basic Properties
The answer format has several basic properties:
Property
Function
Examples
Text Choice Style
Whether the participant can select one choice or multiple choices

Single Choice

Multiple Choice

Default Value

A default value that is already selected for the participant.

Note: This should match the 'Value' property of the desired default choice.

0
Text Choice Description Style
Whether the description of each choice is always displayed, or only displayed when the participant expands it.

Display Always

Display When Expanded

Text Choices
The choices available to the user.

See next section.
Text Choice Properties
You must also configure one or more choices. Each choice has the following properties:
| Property | Function | Examples |
| --- | --- | --- |
| Value | The value of the choice which is not displayed to the participant. This is what will be saved as the answer when the participant submits their response. | Always, Never, 0, 1 |
| Text | The text of the choice which is displayed to the participant. | All the time, Never |
| Description | A longer description of the text choice. You can configure whether this description is always shown or only shown on demand with the "Text Choice Description Style" option. | Select this if... |