A participant can set certain demographic information (such as their name and date of birth) through their MyDataHelps account profile, but some participants will not do so. If your project relies on demographics, it is advised that you ask for the information you need in a survey sent to all participants at enrollment time.
Saving a demographic field does not affect the participant's MyDataHelps profile or their demographics in other projects.
Populating Demographics in Answer Settings
To set a demographic field based on a survey answer, look for the "Populate Demographic Field" option in the answer settings of your survey step. Select your field from the drop-down list.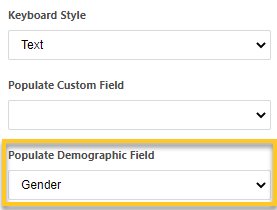 Demographic fields can be updated from the following types of survey steps:
Question
Form (for individual form items)
Web View
Field Compatibility
If your desired demographic doesn't show up in the drop-down list, it means that the field's data type is incompatible with the answer format. For example, you can't update a date field from a weight answer.