Occasionally, expected Apple HealthKit data does not display for users in MyDataHelps or on the participants Apple HealthKit tab in MyDataHelps Designer.
Table of Contents
HealthKit Sync Behavior Overview
The answer to "when will my HealthKit data be uploaded to the server?" depends on a variety of factors as described in the sections below.
Triggering a Sync
A sync may be triggered whenever the participant opens the iOS MyDataHelps app.
After new health data is added (from the Apple Watch, other apps, etc.), iOS will occasionally notify MyDataHelps that new data is available and trigger a sync. There can be a delay of up to an hour or so.
HealthKit data is only available to sync when the iPhone screen is unlocked.
Sync Frequency
Whenever a sync is triggered, MyDataHelps decides whether to perform a sync based on the following:
Time elapsed since the last sync
Battery level, to avoid excessive battery drain
WiFi (vs cellular) connectivity, to avoid excessive cellular data usage
How much data has already been uploaded that day
Diagnosing the HealthKit Syncing Issue for a Participant
Follow the steps in the sections below to determine where the HealthKit syncing issue lies.
Check Permissions in HealthKit
To begin, use MyDataHelps Designer to determine if the participant has denied HealthKit access for MyDataHelps. To do this, search for the participant in question and select their Apple HealthKit tab. If HealthKit has been enabled for the project and you see the screen below, the participant may have denied HealthKit access for MyDataHelps.
For privacy reasons, it is impossible for apps that access HealthKit, including MyDataHelps, to distinguish between denied access and data that simply does not exist.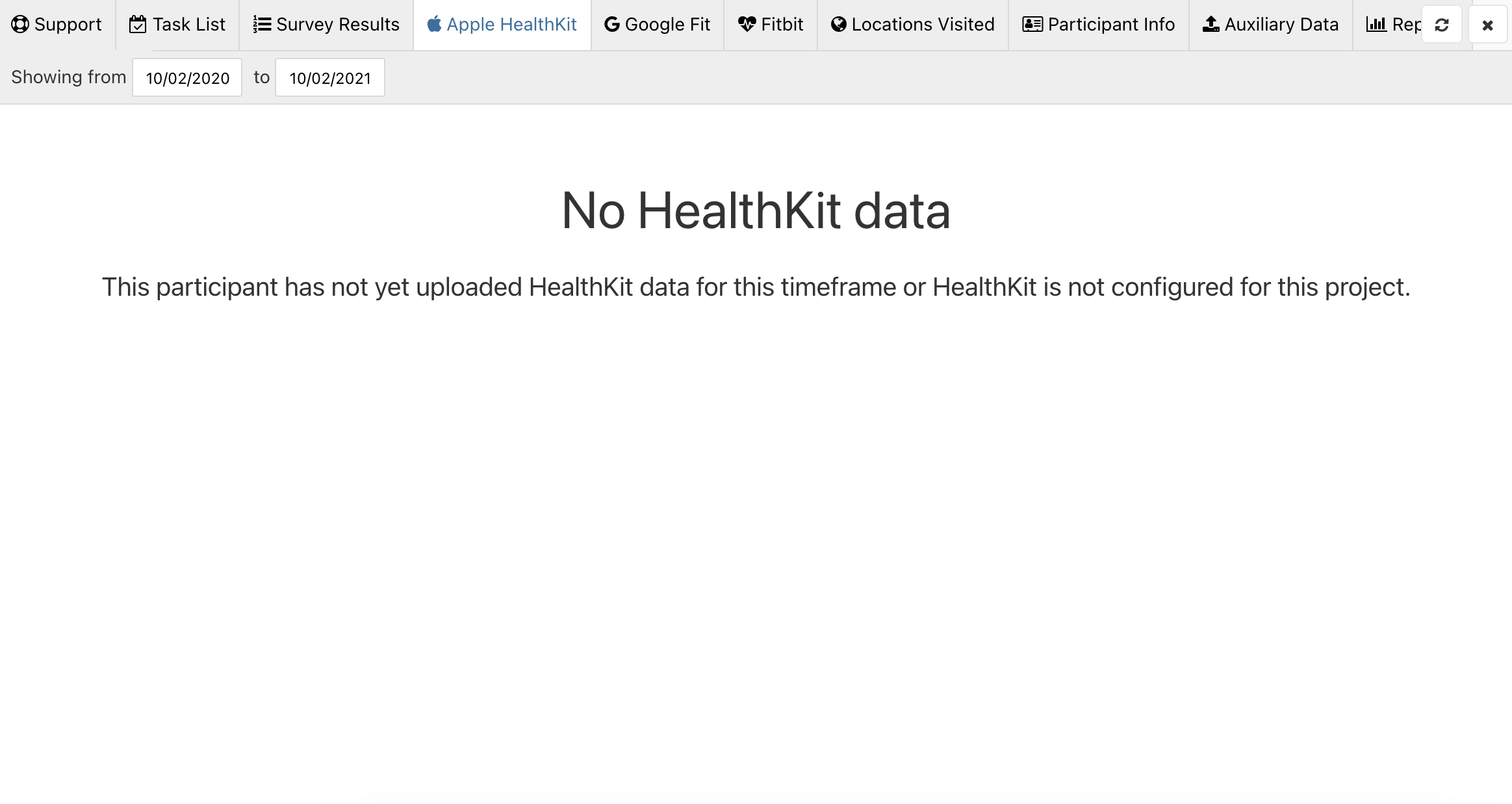 If the participant denied HealthKit access for MyDataHelps, have them remedy the issue by:
Opening the Health app on their iOS device, and then tapping their profile picture in the upper-right corner.
Tapping Apps under Privacy so they can see apps that they already own that are compatible with Health.
Tapping MyDataHelps and enabling the health categories that need to be tracked for the project.
If the participant enabled any health categories, have them wait 5-10 minutes and then refresh the MyDataHelps screen by pulling the screen down with their finger.
Check Apple Watch Settings in HealthKit
If the participant is using an Apple Watch, have them check their Apple Watch settings in HealthKit by:
Opening the Health app on their iOS device, and then tapping their profile picture in the upper-right corner.
Tapping Devices.
Tapping their Apple Watch.
Tapping Privacy Settings and verifying that the appropriate categories of data are enabled.