Table of Contents
Save New Version
After you have updated your survey, you can save your survey via the "Save New Version" button at the top. You're encouraged to save frequently to avoid losing your work.
Survey content is versioned, so saving your survey saves a new version of it. You can always revert to a previous version of the survey by clicking on the version drop-down.
Below is an example of saving a new version and going back to a previous version.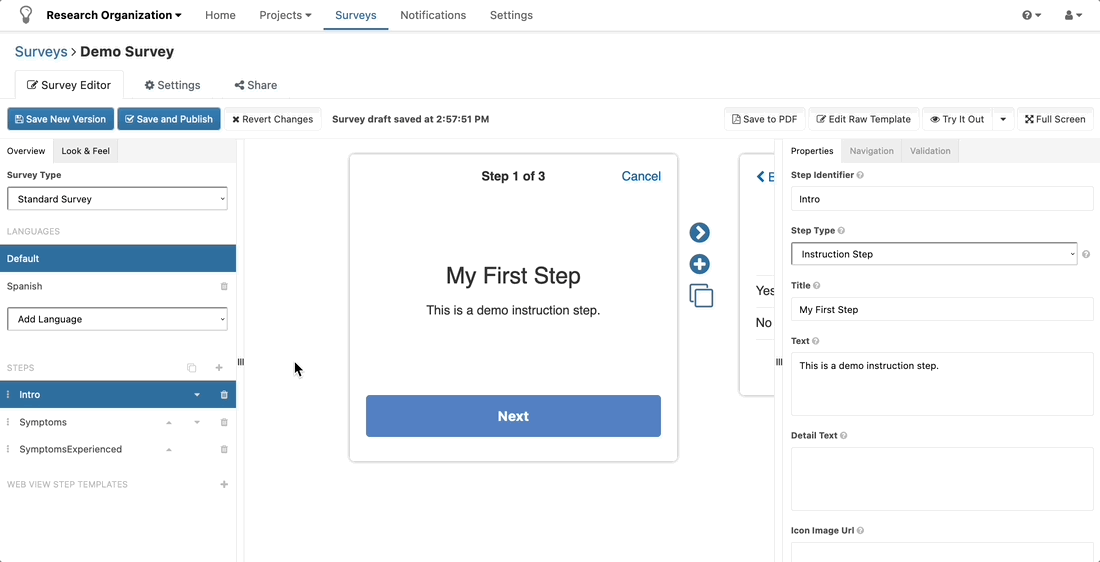 Save and Publish
Before a survey can be included in a project, it must be published. You can publish a survey by clicking "Save and Publish", or "Publish This Version" if you've already saved the version.
Publishing a survey version will make it visible to all relevant participants (i.e., participants who have access to the survey via MyDataHelps will see the most recently published version). This allows you to make changes to the survey that take effect immediately, even for participants to whom the survey has already been delivered. Note that this will have no effect on already completed surveys.
When you go to publish a survey, a pop-up window will outline changes made from the currently published version to the new version. If you have multiple projects, you can choose which projects you'd like to publish the current version to by clicking the checkbox next to the project's name.

We recommend testing your surveys before delivering them to participants.
Revert Changes
If you've made changes to the current version that you wish to discard, you can click "Revert Changes," which will remove all unsaved edits.