There may be instances where participants do not wish to enroll through the MyDataHelps application, but they still want to participate in the study. These participants are referred to as analog participants. The sections below detail how to add analog participants to the study, attach their consent forms, complete their surveys, and export their data.
Table of Contents
Adding Analog Participants
Before survey data can be captured for analog participants, you must add them to the project using the Add/Invite Participants tab within your project settings. You can also use this feature to add or update demographic information and custom fields.

Updating Participant Information, Consents, and Surveys
Once the participant has been added, you may want to update their information, attach a scanned consent document, or enter their survey data into the project database. All of these tasks can be accomplished using the Participants tab located within your project.

To get started, click on the name of the participant you would like to update. From there, you can update demographics or other custom fields under the Participant Info section.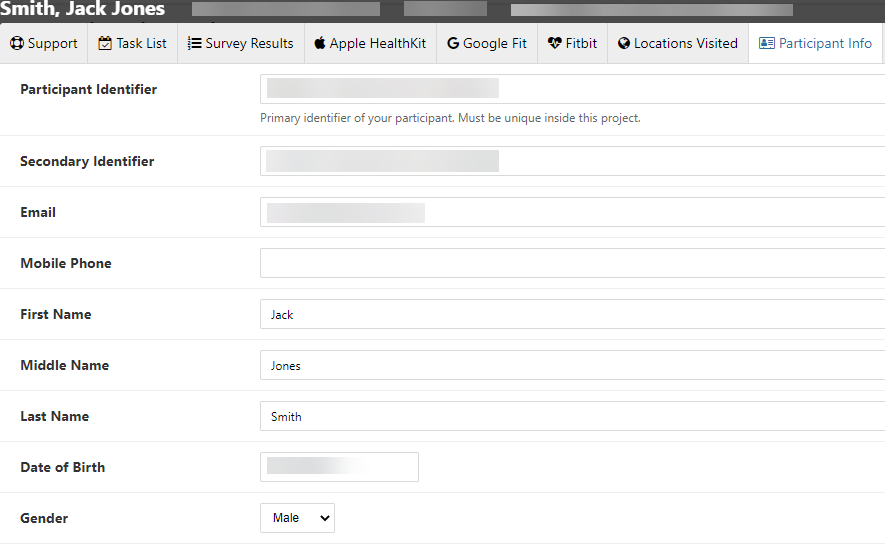 If an external consent form needs to be attached to the participant record (for example, if a paper consent form was signed), navigate to the Auxiliary Data tab to attach the consent.

Finally, you can enter survey data on behalf of the participant using coordinator surveys. These can be completed within the Support tab under the participant's name.

Exporting Participant Data
To include analog participants in the data export, select the AllParticipants data type within the Data Export section of the Project Settings tab. This data type includes both enrolled and analog (unenrolled) participants. More information on the different data types can be found under the Export File Type and Format Summary article.